About the Conference
---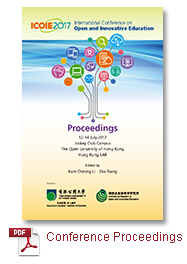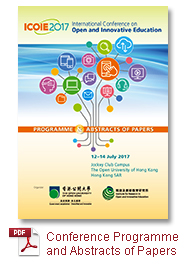 The Open University of Hong Kong (OUHK) has been actively organizing and co-organizing international events to promote and facilitate academic sharing in open and innovative education for more than a decade. In 2014, we started a new annual conference series — International Conference on Open and Flexible Education (ICOFE)*. With the OUHK's recent establishment of the Institute for Research in Open and Innovative Education (http://iropine.ouhk.edu.hk/), the series has been renamed International Conference on Open and Innovative Education (ICOIE).
Openness and innovation are major trends in contemporary education, influencing the whole spectrum of education institutions across the globe. Technological advancement and breakthroughs are bringing about a paradigm shift in contemporary education. Modes of learning and teaching are becoming more open and innovative in terms of time, space, curriculum contents, organization, pedagogical methods, infrastructure and requirements. This change does not only happen in open universities, but also conventional tertiary institutions, as well as schools. The rapid development of Massive Open Online Courses (MOOCs) is one example that well manifests the global trend of open and innovative learning. With this background, the OUHK has organized the annual conferences on open and innovative education with the following aims:
provide a platform for sharing research, practices and views relevant to open and innovative education;

facilitate networking and cross-institutional collaboration among researchers and educators in both open and conventional universities; and

promote open and innovative education to enhance educational access and quality.
Building on the successes of the conference series in three previous years (2014–2016), the 2017 International Conference on Open and Innovative Education (ICOIE 2017) will be held on 12–14 July 2017 at Jockey Club Campus, the Open University of Hong Kong.
* For more information on this conference series, you may visit the websites of ICOFE 2016 (http://icofe2016.ouhk.edu.hk/), ICOFE 2015 (http://icofe2015.ouhk.edu.hk/) and ICOFE 2014 (http://icofe2014.ouhk.edu.hk/).
Conference publications
Accepted full papers will be included in the conference proceedings. Authors of selected papers will also be invited to submit an extended version of their papers for a special issue of an edited book or one of the following journals:
Interactive Technology and Smart Education

International Journal of Mobile Learning and Organisation

Journal of Open Learning
Themes of conference papers
Papers relevant to the following themes are welcome:
| | |
| --- | --- |
| 1. | Pedagogical innovations; |
| 2. | Innovations in educational technology; |
| 3. | Innovations in curriculum development; |
| 4. | Mobile and ubiquitous learning; |
| 5. | Open education; |
| 6. | Engaging students and learning design; |
| 7. | Social media and technology-mediated learning communities; |
| 8. | Open educational resources and MOOCs; |
| 9. | Academic analytics; |
| 10. | Innovative approaches to higher education management; and |
| 11. | Other topics relevant to the conference. |
Papers on all topics related to open or innovative education are welcome. Papers on related topics will also be considered.
Conference language
The Conference will be conducted in English.
Papers submitted for presentation must be in English.
If there are sufficient papers in Chinese, a Chinese presentation time-slot will be included in the programme.